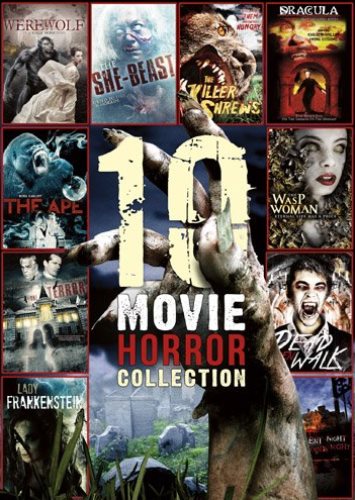 Echo Bridge Home Entertainment
10-Movie Original Cult Classics V.3 DVD -
---
DORMITORY At a boarding school for wayward girls, a murderous beast is prowling the grounds with razor-sharp claws, skin-shredding teeth and an insatiable lust for blood. THE SHE-BEAST Veronica (Barbara Steele) is a beautiful young bride who is possessed by an 18th century Transylvanian witch that was murdered by local villagers. THE KILLER SHREWS A mad scientist on an isolated island accidentally creates a race of giant shrews that manage to escape during a hurricane. THE SATANIC RITES OF DRACULA Christopher Lee stars as Count Dracula, who fronts a satanic cult that uses a research establishment and real estate business as a cover for its dastardly deeds. THE WASP WOMAN A youth-obsessed cosmetics mogul volunteers to be the test subject for a new beauty cream that has a sinister side effect. Directed by Roger Corman. DEAD MEN WALK George Zuccho stars in a dual role as twin physician brothers—one good-hearted, the other evil. The good doctor murders his malicious sibling in secret but his image is destroyed when the evil doctor returns from the grave. SILENT NIGHT, BLOODY NIGHT Christmas Eve will be like no other for a quaint New England town where dark, sinful secrets come to light and an escaped asylum inmate gets revenge. LADY FRANKENSTEIN Tania Frankenstein's first order of business after taking over her father's work is to transplant her lover's brain into the handsome groundskeeper's body. THE TERROR Lieutenant Duvalier (Jack Nicholson) is smitten with a mysterious woman he meets...but becomes suspicious of her creepy demeanor as she drives him to the brink of madness. THE APE: Dr. Adrian (Boris Karloff) discovers a vaccine for polio: pure, unadulterated human spinal fluid. Now all he needs are some donors.
Condition: Brand New
Original protective wrapping may be missing, but the original packaging is intact.
Purchase Contains: Movie, Case & Artwork
Model: 096009181345
Packaging:
Return Policy: 30 Days
---
Share this Product
---
More from this collection