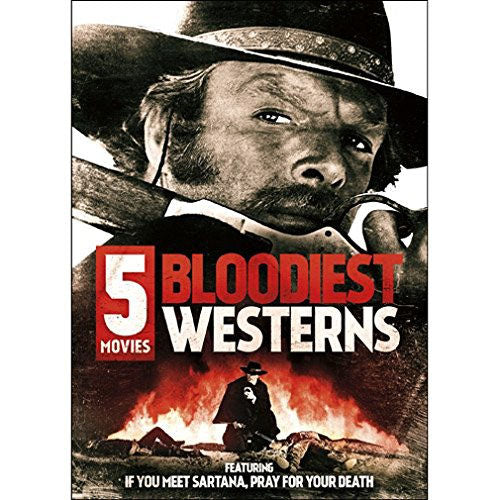 Echo Bridge Home Entertainment
5-Movie Bloodiest Westerns DVD -
---
Ride out with the mysterious silent heroes, nasty villains and clever banditos of the Old West in this five-film set. These films are filled with gripping stories of robbery, revenge and frontier justice—packing all the classic savage spaghetti Western violence from which this genre gets its fame. Starring Franco Nero, James Mitchum, John Garko.
Massacre Time: Prospector Tom Corbett (Franco Nero) is urgently called back to his home, where he has left his brother, Jeffrey, on the family's property. When he returns, Tom finds that their land—along with everything else in town—now belongs to the powerful Scott family. Determined to right the wrongs the Scotts have created, Tom begins a violent quest to restore justice—and discovers a family secret along the way.
Massacre at Grand Canyon: It's been two years since lawman Wes Evans (James Mitchum) left home on important business. But now that he's back in his old stomping ground, Wes learns that there have been some drastic changes. Not only has his lover married someone else, but a battle for control of the valley has broken out, leaving the community in chaos. If he can't restore order before the fighting takes its toll, he might lose even more than he already has.
If You Meet Sartana, Pray for Your Death: A stagecoach robbery, a Mexican villain and a nasty crook named Lasky have combined to create a twisted plot motivated by gold and greed. When Sartana (John Garko) gets involved, bullets begin to fly and his new rivals go to great lengths to defeat him. But they quickly learn that when you face off against Sartana, its best to Pray for Your Death.
I Want Him Dead: Clayton, a frontier guide, is traveling with his sister. He sends her up to the hotel room while he tends to business, but is devastated when he returns to find her dead. Determined to avenge her death, he follows the perpetrator's tracks and catches up with the man and his crew. When Clayton learns of the gang's next move, he takes the opportunity to settle the score.
Dig Your Grave…Sabata Is Coming: Steve McGowan has just returned from the war to find that his father has been killed by the ruthless gang of a wealthy land owner, Mr. Miller. Seeking revenge, Steve attacks and kills Miller's henchmen. When he's jailed for his crime, Steve meets a swindling bandito named León Pompero who wants to join his fight. Now the pair is on the run and Miller is getting nervous, so he hires the famous Sabata to take care of the problem. But Steve and León are hard to kill, and even the best outlaw hunter in the West will have trouble taking these two out.
Condition: Brand New
Purchase Contains: Movie, Case & Artwork
Model: 096009458645
Packaging:
Return Policy: 30 Days
---
Share this Product
---
More from this collection