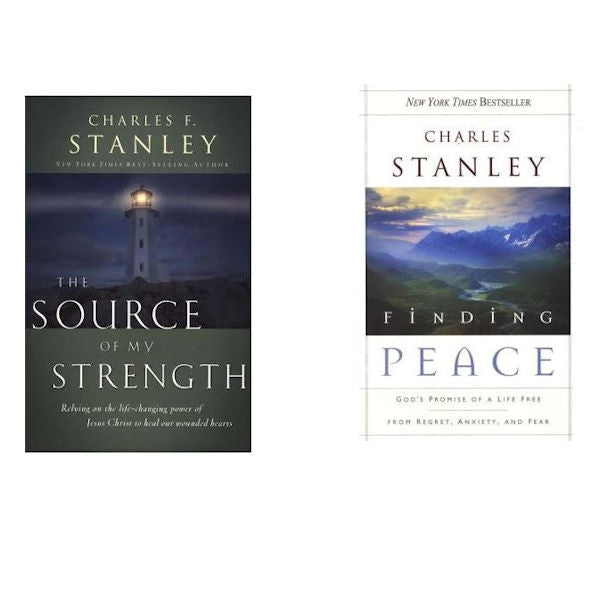 Oliver-Nelson Books
Charles F. Stanley; Finding Peace/The Source of My Strength Paperback (2-Books) -
---
Finding Peace: God's Promise of a Life Free from Regret, Anxiety, and Fear - Chronic anxiety taints every corner of 21st century life. Terrorist threats, a shaky economy, growing unemployment, and individual crises create fertile ground for obsessive worrying and fear of the future. But you don't have to suffer anxiety's relentless grasp. You can be free from fear. In Finding Peace, bestselling author Dr. Charles Stanley shows the way to life-changing peace of mind. You can gain real peace, Dr. Stanley confirms. but only from one source---God. Your tranquility can be more than just a wish; it can become a habit. Finding Peace offers you the tools for resolving past failures and regrets, for facing present concerns, and for soothing apprehensions about the future. Insightful and compassionate, Dr. Stanley has crafted an essential message for all who wrestle with daily turmoil in an uncertain world.
Format: Paperback
Number of Pages: 230
Publication Date: 2007
The Source of My Strength - For those who grieve, He offers comfort. For those who struggle, He offers rest. For those overcome by pain, He offers hope and healing. To those who carry emotional burdens too large for them bear, Christ offers His strength. In this book, Dr. Charles Stanley talks honestly about his own journey through emotional pain and points readers toward the wellspring of strength. He shares his own experiences with grief and shows readers how to overcome the pain, understand the burdens, confront memories, and discover the courage and strength to live freely in God's love for them. Written from the heart, this book is one of Dr. Stanley's most personal and triumphant books.
Format: Paperback
Number of Pages: 231
Publication Date: 2005
Condition: Brand New
Purchase Contains: Two Books
Model: 009W44
Packaging:
Return Policy: 30 Days
---
Share this Product
---
More from this collection